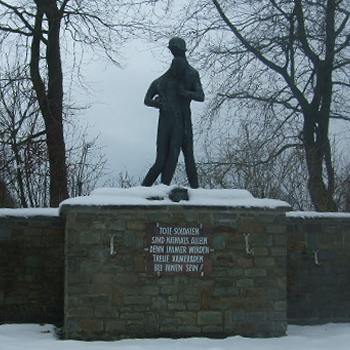 Links
World War I at Wikipedia
World War I, also known as the First World War, the Great War, and the War to End All Wars, was a global military conflict that embroiled most of the world's great powers, assembled in two opposing alliances: the Triple Entente and the Triple Alliance. Over 70 million military personnel were mobilized in one of the largest wars in history. The main combatants descended into a state of total war, pumping their entire scientific and industrial capabilities into the war effort. Over 15 million people were killed, making it one of the deadliest conflicts in history.


World War I at the BBC
The causes, events and people of the conflict dubbed the 'war to end all wars'.


The First World War
The purpose of this website is to provide an overview of the First World War. Necessarily a long-term undertaking - and approaching seven years into the process - much remains to be covered.


World War II at Wikipedia
World War II, or the Second World War (often abbreviated WWII or WW2), was a global military conflict which involved a majority of the world's nations, including all of the great powers, organized into two opposing military alliances: the Allies and the Axis. The war involved the mobilization of over 100 million military personnel, making it the most widespread war in history. In a state of "total war", the major participants placed their entire economic, industrial, and scientific capabilities at the service of the war effort, erasing the distinction between civilian and military resources. Over seventy million people, the majority of whom were civilians, were killed, making it the deadliest conflict in human history.


World War II at the BBC
The causes, events and people of the most destructive war in history.


Classic War Birds
Profiling aircraft of World War 2 from legendary fighters like the Spitfire and P-51 Mustang to iconic bombers including the Lancaster and B-17 Flying Fortress. Classic Warbirds features details on many American and British aircraft of World War 2.


World War II
The modern world is still living with the consequences of World War 2, the most titanic conflict in history. Just under 69 years ago on September 1st 1939, Germany invaded Poland without warning sparking the start of World War Two. By the evening of September 3rd, Britain and France were at war with Germany and within a week, Australia, New Zealand, Canada and South Africa had also joined the war. The world had been plunged into its second world war in 25 years. Six long and bloody years of total war, fought over many thousand of square kilometres followed. From the Hedgerows of Normandy to the streets of Stalingrad, the icy mountains of Norway to the sweltering deserts of Libya, the insect infested jungles of Burma to the coral reefed islands of the pacific. On land, sea and in the air, Poles fought Germans, Italians fought Americans and Japanese fought Australians in a conflict which was finally settled with the use of nuclear weapons. World War 2 involved every major world power in a war for global domination and at its end, more than 60 million people had lost their lives and most of Europe and large parts of Asia lay in ruins.


BFluent English Courses Southampton Hampshire
Specialists in English Language courses and English language consultancy. We are an approved Edexcel centre for ESOL Skills for Life and ESOL for Work. We teach general English classes at all levels in different locations in Southampton and nationally. Our English Language courses and 1-to-1 English lessons are based on high quality classes with professional, qualified and experienced teachers.


ESOL British Citizenship Courses Southampton Hampshire
If you want to become a British citizen an ESOL course with citizenship would satisfy the Home Office Boarder Agency requirement of knowledge of life in the UK and English language level.


RJB Projects (Europe) Ltd. Southampton Hampshire
RJB in Southampton Hampshire offers a full machinery relocation service from a single machine to complete site relocation throughout the UK, Europe and worldwide. For all machinery relocation whether a single or multi machinery moves RJB are conscious of your production schedules and will work to accommodate your dead lines. This can be achieved by weekend, night shift or over bank holidays periods.


Solent Sites Hampshire Business Directory
Solent Sites is a Hampshire business directory. We're here to help people living in the Solent area of Hampshire to find their way through the maze of Hampshire websites that are now on the Internet.


Spectrawax Lighting Norfolk
Innovative, radical, wax lampshades use a wax and resin laminate, invented by the artist, to create unique, Tiffany style lampshades which are a limited-edition art-works. Glowing wax with an abstract, jazz kaleidoscope twist - the above illustration shows the beauty of light shining through wax.


Streamline Taxis Gosport Hampshire
Streamline Gosport Taxis, Hampshire can provide all your taxi needs in the Gosport area of Hampshire. Airports, Eurostar, dock transfers, club runs & courier work are all undertaken by our experienced professional drivers. Our Gosport taxis operate 24 hours a day.


Vir2ual Bathrooms Gosport Hampshire
Vir2ual Bathrooms is a bathroom warehouse for the general public offering affordable, every day and luxury sanitary goods. Browse our selection of bathroom suites, showers, vanity furniture and accessories in our Gosport showroom.